As advertising rules differ by state, locality, organization and brokerage, we aim to provide as much flexibility as possible so agents have full control over the content of their ads. Agents are able to easily include their name, phone number, brokerage logo, and personal photo in their ads, and may also include a custom background. Generally, other commonly required information, such as a license #, may be presented in the text of the ad, either in the message or the headline.
Many agents are also interested in displaying the Fair Housing Logo in their advertisements. We recommend that the logo be included in either the brokerage logo or the background image (e.g., the image of the house). Our recommendation is to define a specific way that you would like to present the Fair Housing Logo in all of your advertising, then implement that consistently across your campaigns. Below we have included several examples and options of where you might place the Fair Housing Logo in your ads.
1) Including the Fair Housing Logo with your brokerage logo will allow easy replication across all of your Postamo ads. Just edit your brokerage logo to include the Fair Housing Logo before uploading it to Postamo.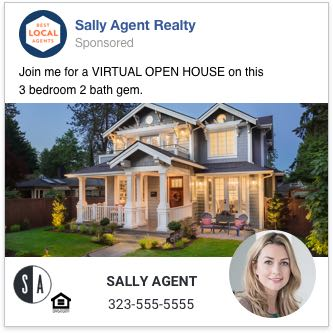 2) Placing the Fair Housing Logo in the background image will provide more flexibility and may make the logo more legible. Using an image editor, either on your computer or online, you can integrate the Fair Housing Logo into your background image, then upload it to Postamo when editing your ad.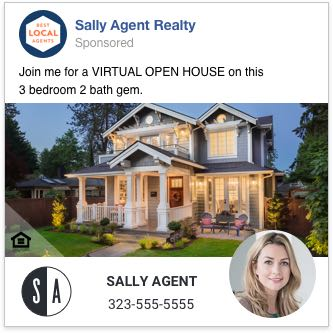 Please keep in mind that Facebook reviews all ads for content and may reject ads that have too much text, or unreadable text. Ads with too much text may also not perform well. This can become an issue if there is text in the various logos integrated into the ad and it becomes unreadable. Our recommendation is to avoid placing phone numbers, names or other text in the brokerage logo or profile image. If the ad is rejected by Facebook for these reasons, we will notify you so that we can find a solution.
If you have any questions please let us know by emailing us at support@postamo.com or by calling/texting us at 855-494-7776.